January 24, 2023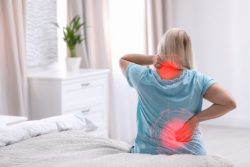 Rheumatoid arthritis (RA) is a serious condition that afflicts well over a million people in the United States. Individuals with this disease have to cope with chronic joint pain and inflammation. Unfortunately, they may also struggle to get an adequate amount of high-quality sleep. In fact, research suggests that RA can increase a person's risk of developing sleep apnea. How are these conditions connected? Read on below to find out.
The Connection Between RA and Sleep Apnea
There are a few different types of sleep apnea. The most common variety, known as obstructive sleep apnea (OSA), is characterized by pauses in breathing that occur when tissues in the throat block the free flow of air during sleep. OSA can have numerous causes, including excess fat around the neck, chronic nasal congestion, anatomical abnormalities of the neck and head, and more.
Research has found that people with RA are more susceptible to OSA than the general population. In fact, one study published in 2016 found that the rate of sleep apnea was 75% higher in people with RA than in those without the disease.
Why Are RA and OSA Connected?
Scientists are not 100% sure why RA is so strongly correlated with OSA. However, there are a few possible explanations:
Joint and tissue deterioration. As RA progresses, it can cause bone erosion and joint deformities. These issues can affect the jaw and the joint that controls it (called the TMJ). In turn, this can cause narrowing of the airway.
Inflammation. RA increases the amount of an inflammatory substance in the body known as TNF. Elevated TNF levels are also common in victims of OSA.
Obesity. Obesity is common in both people with RA and people with OSA. It is an underlying risk factor that may contribute to the onset and severity of both conditions.
What Can You Do?
Sadly, there is no cure for rheumatoid arthritis. However, it can be managed via medication and physiotherapy.
As you are striving to minimize RA's impact on your life, you should also get tested for OSA. If you are diagnosed with it, you can look into your treatment options. Many patients choose to get a simple oral appliance from a dentist. It gently repositions the jaw at night to keep the airway open and facilitate easier breathing.
RA and OSA often go hand in hand. The good news is that with proper treatment, both conditions can be well-managed.
Meet the Sleep Apnea Expert
Dr. Kenneth Mogell has more than a decade of experience in helping patients achieve high-quality sleep through oral appliance therapy. If you suspect you have OSA or have recently been diagnosed with it, he and our team would be pleased to serve you. Contact any of our locations or call our Melbourne office at 321-313-5350.