April 17, 2023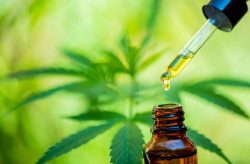 It seems like CBD is everywhere these days. Creams, oils, lotions, and even lattes that contain CBD are trending upward. Some people are even using CBD to improve the quality of their sleep. But can CBD really be used to treat sleep apnea? In this blog post, we discuss what CBD is, how it might affect your sleep, and how you can find real relief from sleep apnea.
What Is CBD?
CBD is an acronym for cannabidiol. It is a chemical compound contained in the cannabis sativa plant, which is commonly known as hemp or marijuana. But don't worry — CBD is not psychoactive, so using it will not affect your ability to think clearly. In other words, it will not get you high. A separate compound in marijuana, THC, is primarily responsible for the plant's mind-altering capabilities.
Can CBD Help Sleep Apnea?
Research on CBD has established that it has a number of useful applications. For example, it has been known to relieve pain, reduce anxiety and depression, alleviate some cancer-related symptoms, and more. However, the question still remains — can it be used to treat sleep apnea?
CBD's usefulness for addressing sleep apnea is yet to be determined. Some people have noticed a reduction in their symptoms when they incorporate CBD into their routine. However, there is very little official research on the subject; any evidence to support its applications as a sleep apnea treatment is purely anecdotal.
It is also worth noting that CBD has been shown to help some people find relief from insomnia, so if you suffer from both sleep apnea and insomnia, CBD might be able to help you.
A Few Caveats
Trying CBD as a way to relieve your sleep apnea symptoms is unlikely to hurt you. In fact, it might even help! However, there are a few caveats that you should consider before you move forward with it:
You might experience side effects. Changes in appetite, diarrhea, and fatigue are all possible side effects of CBD.
CBD can interact with some medications. Do some research on your medications so you know if they might be affected by CBD use.
CBD might affect your liver. When taken in extremely large doses, CBD may contribute to liver toxicity. Moderation is important.
Finding Real Relief from Sleep Apnea
It is fine to try at-home remedies, such as CBD, to improve the quality of your sleep. However, the best way to address sleep apnea is with the help of a qualified medical professional. For example, a dentist can provide a custom oral appliance that will facilitate uninterrupted breathing at night so you can start to feel better and enjoy an improved quality of life.
CBD might help sleep apnea — or it might not. It is safer to stick to well-established treatments for sleep disorders.
About the Author
Dr. Kenneth Mogell is double board-certified in dental sleep medicine. If you have sleep apnea, he and our team would be pleased to help you explore your treatment options. Contact any of our three locations or call our Melbourne office at 844-686-0696.